New product stainless steel band it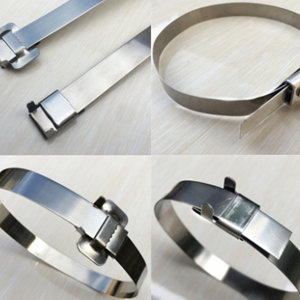 The stainless steel banding strip is durable, it has faster tightening speed than general tools, strong cutting force, light weight,
small size, easy to use and carry, and beautiful appearance. Compared with nylon cable ties, the improvement of stainless steel
cable ties is that special customized fixing rods are used instead of iron bars to fix all accessories. After optimization, both ends
of the fixing rods of the fixing accessories will be closed and locked, so that the accessories are no longer The fixing rod is tripped
and loosened, because the original kind is only tied with iron bars, which are easy to break away from the rack, causing the
accessories to be scattered and scattered. This structure is generally on the market today. In addition, the improved cutting
edge makes the cutting of the steel belt more labor-saving and durable, and the fixed structure changes, and it will be more
firmly fixed. This kind of cable tie is widely used in industry, agriculture, communication, petroleum, aviation, transportation,
shipbuilding industry and so on.
How to use stainless steel banding strip:
With a dedicated cable tie tightening machine, lightweight steel belt tightener, and stainless steel cable tie, you can quickly
and easily fasten the stainless steel cable tie to metal or rubber hose, wire bar, cable wire, pipe, etc. Wait for different shapes
and sizes of objects to be fastened. At the same time, there are stainless steel cable ties of different materials such as 201, 304,
316, 300, etc., which can meet the different needs of customers for acid and alkali resistance, tensile strength and price. ,
Clamps, throat clamps, etc., make the effect of binding better, fast, neat, durable. Such as the fixing of signs, signal lights,
and related traffic equipment; bundling of wires and cables, street lights, power supply equipment in power engineering;
fire fighting, petrochemical, vehicles, aviation, winemaking, paper making, etc. in gas pipes, water pipes, hydraulic pipes, etc.
Tightening effect at the interface.
The stainless steel cable tie tool adopts a specially imported blade for stainless steel cable tie tool, which has strong cutting
force and is suitable for a set of tools that are used for tensioning and cutting of steel tape with a caliber of less than 25mm.
On the basis of the shape, the knives, tool holders, racks, gears, etc. have been strengthened, making these parts thicker,
enhancing the ability to tighten and cut, more suitable for cutting thicker all-steel cable ties, and more tensile force Big.