Brief introduction Storz Coupling
Brief introduction Storz Coupling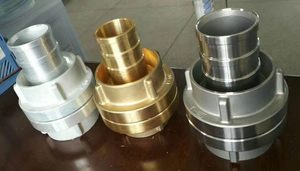 Winocean is the professional storz coupling factory ,we provide the high quality coupling .
Storz coupling started from the Germany and then it is widely used in the world ,it ues in the fire fighting ,industrial.
The material have Aluminum -Forge , Aluminum-Die cast , Brass . SS316 . the popular size is 1''-4'' . But there are some place
Where require the large size storz coupling (6'' 8'' 10'' 12'' 14'' ) .for example the firefighting truck ,the large size hose
connection . we are the few factories in china ,who can provide the large size storz couplings .
The storz couplings have three types , storz suction hose coupling ,storz adapter with male & female thread ,storz cap.
The thread can be BSP NPT NH . we can make them as your willing .
So how do we check the storz coupling size ? the most important thing is the Lug distant, we also call the KA distance .
If you are not sure how to check ,you can look for the youtube ,we have the video to show the measurment .