Aluminum Brass Machino Fire Hose Coupling IMPA 330855 .330856.330857


Fire Hose Couplings are commonly used by the Fire department for the delivery of water to fire fighting systems but are sometimes used as an industrial hose coupling.

Fire hose coupling are made from a variety of materials, with selection depending on application. Metals can be Aluminum, Brass, , Stainless Steel .

The standards : JIS
The size : 1.5'' 2'' 2.5'' 3'' 4'' .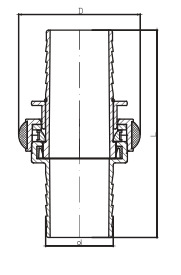 | | | | | |
| --- | --- | --- | --- | --- |
| SIZE | D | d | L | IMPA |
| 1.5''(40A) | 78 | 38 | 125 | 330855 |
| 2.0''(50A) | 94 | 51 | 161 | 330856 |
| 2.5''(65A) | 114 | 63.5 | 195 | 330857 |
| 3.0''(75A) | 125 | 76 | 232 | 330858 |
| 4.0'' | 167 | 101 | 291 | |
ADAPTER FIREHOSE BRASS MACHINO, 1-1/2" FEMALE/THREAD 2" FEMALE
IMPA: 331871
ADAPTER FIREHOSE BRASS MACHINO, 1-1/2" MALE/THREAD 2" FEMALE
IMPA: 331872

ADAPTER FIREHOSE BRASS MACHINO, 2" FEMALE/THREAD 2" FEMALE
IMPA: 331873
ADAPTER FIREHOSE BRASS MACHINO, 2" MALE/THREAD 2" BSP FEMALE
IMPA: 331874
ADAPTER FIREHOSE BRASS MACHINO, 2-1/2" MALE/THREAD 2" FEMALE
IMPA: 331875
ADAPTER FIREHOSE BRASS MACHINO, 2-1/2" FEMALE/THREAD 2" FEMALE
IMPA: 331876
ADAPTER FIREHOSE BRASS MACHINO, 2-1/2" FEMALE/2-1/2" FEMALE
IMPA: 331877
CAP FIRE HOSE COUPLING BRASS, MACHINO 1-1/2"(40A) SM08405
IMPA: 331878
CAP FIRE HOSE COUPLING BRASS, MACHINO 2"(50A) SM08407
IMPA:
331879
CAP FIRE HOSE COUPLING BRASS, MACHINO 2-1/2"(65A) SM08410
IMPA: 331880